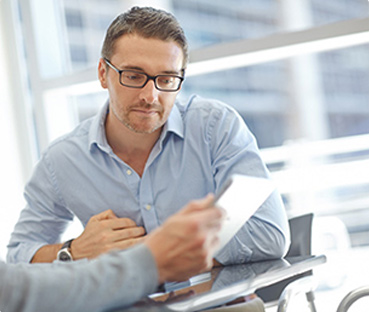 Job seeker choice

When we, Offshore Jobs professionals got together, we asked ourselves how difficult it was for us to start offshore and if we had anyone to assist us. Did we have enough information and were there possibilities to seek help on the Internet?
We all came to the same answer – NO. And today the situation has not changed much: information for those seeking employment offshore is limited and comes in small pieces from different places online. There is no a single web page where all this information would be consolidated.
So we decided to create a unique portal where employee looking for a job offshore would get support & information he needs to start or to advance his career.
OJ portal is a unique opportunity to get an expert advice from a team of oil & gas professionals.

Employer choice
offshorejob.eu portal would not be complete without employers. There are a lot of similar crewing portals where databases are stored and sold to offshore companies seeking O&G professionals.
So why would you choose yet another "database"?
The answer is simply this: our main offer for any offshore company database & job posting is FREE of charge, without any subscription plans or monthly bills.
Certainly we do offer a wide range of additional services which would increase your company's HR productivity and personnel quality as well as save your time & reduce costs on HR related issues.
Besides, our main goal is to connect job seekers and job postings from companies world-wide in one place.
Our aim is to make offshorejob.eu into a number one offshore job search portal in the world which would be easy to access and simple to use. We want that offshorejob.eu to be a convenient instrument for your daily HR related activities, where you can easily find appropriate candidates or post a hot job offer.
Our team is working hard to increase the ease of use, the ease of search and the ease of job posting for you. If you have suggestions on how we may improve and make this portal even easier to use, we would appreciate haring from you.
If you are interested and would consider cooperating with us please contact us at info@offshorejob.eu.

"

I would like to thank you for creating this website, it is very convenient to use it, and it definitely helps us a lot in searching for suitable candidates.
Since the time of registering on your website, we have further employed several candidates, among whom are 2nd mates/DPO`s, 2 Engineers, ABs, etc.

In a word, I would like to state that your website forms a significant part of our working process, and surely expands the searching areas.

So thank you once again for assisting us!
Jekaterina Trofimenko
HR Inspector
SAILINGA

Official Article about Offshore Job:
Those who have tried to find a job or to advance their careers offshore can attest to the challenges they faced: cut-throat competition for each job posting, extremely high requirements for applicants and very little information or guidance to steer novices or mid-level professionals towards success. Offshore Jobs Experts – OJ - an offshore job and career consultancy company, was born out of the founder's first-hand experience in the offshore industry. "We have built our careers offshore from the ground up. We have faced all these challenges and now, that we have learned the ropes, we decided to put our know-how to work so that others can benefit and have an easier way to their desired position in this extremely challenging yet very rewarding industry," they say.
We aim to be the best daily tool for any Recruiter. Simplicity, Free access, assessed candidates and top quality service guaranteed. If you looking for a job - you are in the right place! We will help you and we will lead you through you career. Don't hesitate and contact us for top quality services in offshore industry.
We know what we do, and our help for job seekers is already recognised world wide!
Offshore Job Experts Team
What is it?
"OJ" can be best described as a one-stop online service for those new to offshore and those seeking to advance their careers in the industry. While it is not a recruitment company, "OJ" combines a global, up-to-date database of job postings, comprehensive information about finding and keeping a job offshore, and personalized advice on a wide range of offshore related matters – from technical advice to CV and cover letter evaluations.

"If one tries to look for information about offshore industry online, most advice is scattered all over cyberspace. We are unique because we have combined a wealth of information in one portal and made it available to the public. Clients can choose whether they just want to browse for free and learn about what it takes to apply for a job or to climb the ladder offshore, see sample CVs based on the insights of top HR managers of the industry, read up on different positions and requirements for them or to choose paid service that would provide them with highly personalized advice, which could include feedback on their existing CV and cover letter, development of a new, professional CV, advice about the job and other questions related to the industry," the owners explain the idea behind the concept.
Why a Consultancy?
When a job offshore is posted, the HR managers are instantly flooded with applicants' emails with CVs and cover letters. How does one even get noticed? What are the chances of getting a job offshore when a person knows that their application is one out of thousands and sometimes one out of ten thousand? "A person needs to know how to sell themselves when applying for any job, but when it comes to offshore, it is possibly the most complex industry, because the requirements are the highest and the selection process, the most rigid. Even the way that an applicant lists his hobbies or the way he maintains eye contact during the job interview can make or break the deal," the owners of "OJ" share their insights. "Sometimes a person sends out hundreds of applications or tries for years to get hired for a higher position and nothing happens. That is when a piece of advice from an offshore HR manager or a critical look at one's CV and cover letter can become worth gold. That is what we want to give our clients."

"
If I say I am impressed I say nothing!
The structure, the right combination of the words and the sentences, and the easiness of reading are excellent!
I really appreciated the personal approach!!!
I believe this document should knock the recruiter down.
I want to thank you for the exhausting information which you gave me along!
You guys, are the "Word Masters"
Thank you very much.

Interface is very simple and practical.
I have to admit we were not expecting to receive so much CV's.
Most candidates are looking really interesting.The amount of CV's we are getting is really impressive, we managed to fix whole crew for this period and currently looking for another "batch"
So I am overly impressed and thankful.
Ervin Sula
Tschudi Ship Management AS

Why "Offshore Job Experts"?
While "OJ" definitely stands out in the field as a one-of-a-kind consultancy, it is also unique in its approach in at least three ways:
Personal approach: not only because it is born out of the founders' continued personal experience in the field, but also because it takes a very personal approach to job search offshore. The idea behind "OJ" is to be a personal guide to the surviving and thriving in a highly competitive offshore labor market. A cookie-cutter, one-size-fits-all approach does not work here and that is why the company calls on experts from around the globe to help its clients succeed, one person, one CV, one career path at a time.
Cutting edge know-how: everybody in the company – from the consultants to the founders to the office staff have current knowledge of the industry. Since offshore has boomed in the last few years, so has the legislation and the requirements for the applicants – and the field keeps changing daily. It is critical that the ones who would advise others how to get ahead monitor the pulse of the sector very closely. As insiders who continue to work offshore, the staff of "OJ" can give their clients the most current advice and put them ahead of the curve.
Comprehensive service: from job postings to position requirements to CV appraisals to job interview strategies to technical advice on the job – "OJ" can meet new and advanced players in the field where they are with the most relevant information and guide them through their careers offering services, advice and information for every step of the ladder. It is like having a personal career coach that draws from the wisdom and expertise of professionals around the globe.